TALK WITH
︎
PAUL HOI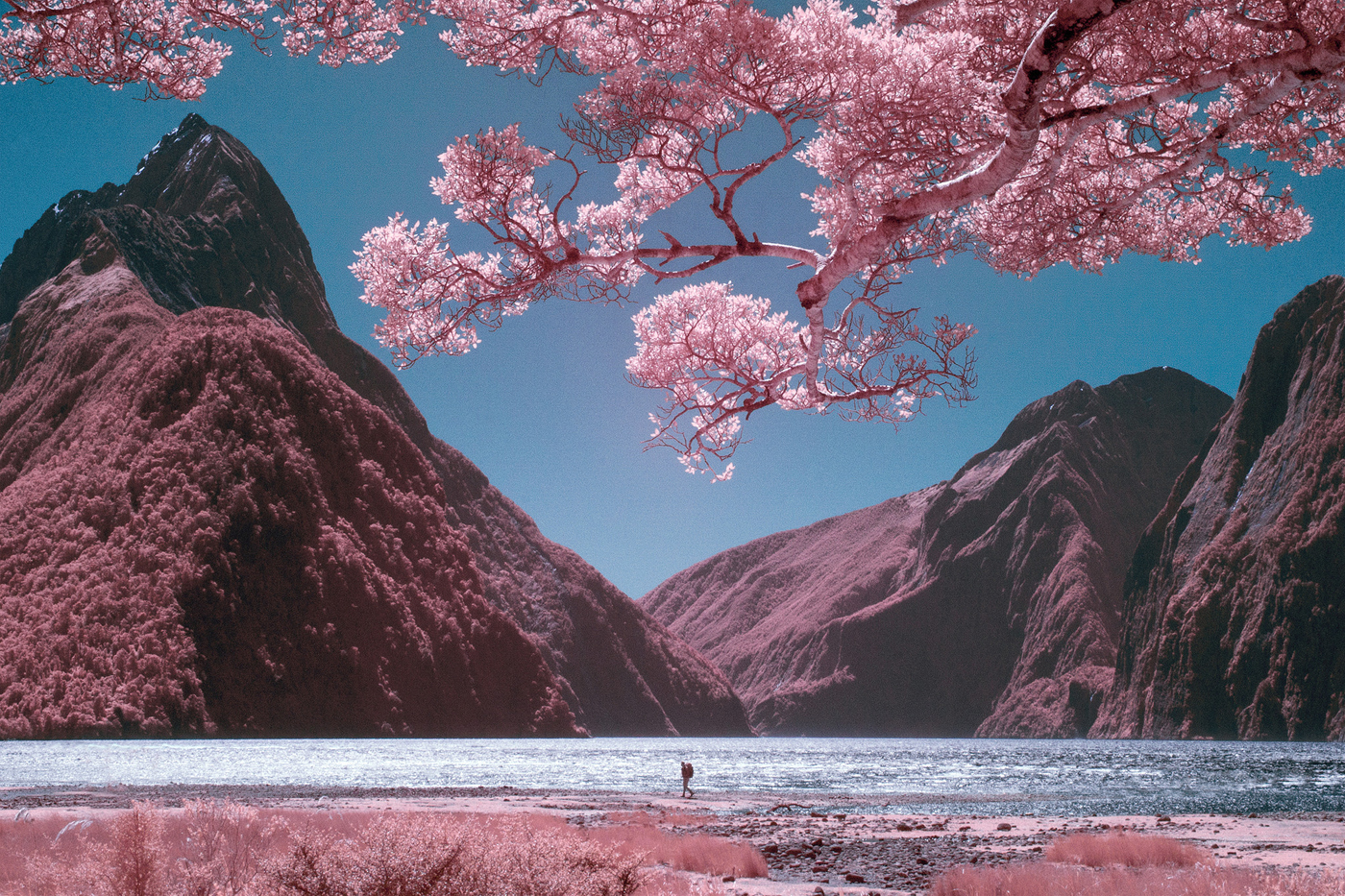 Ciao Paul, parlaci di te, dove sei cresciuto? qual'è il tuo background?

Ciao! Mi chiamo Paul Hoi e sono un fotografo paesaggista sperimentale con sede a Oakland, in California. Sono cresciuto a Hong Kong, immigrato nella North Bay (la regione a nord di San Francisco) con la mia famiglia quando avevo circa nove anni, e da allora sono sempre stato qui.
Il mio interesse iniziale per il disegno si è evoluto in sperimentazione con la fotografia circa dieci anni fa. Attualmente lavoro con il team fotografico di un agenzia in Apple.

Come è nato in te l'interesse per la fotografia?

Sono cresciuto disegnando. Man mano che le mie capacità si sono sviluppate sono diventato più consapevole della composizione, della profondità e del colore, la fotografia è stata inizialmente un divertente esercizio di design compositivo, era come un disegno istantaneo.
Dopo il college, ho completato una serie sui sobborghi americani ed ho pensato che dopo questo avrei smesso con la fotografia. Solo diversi anni dopo è rinato il mio interesse, in particolare per la fotografia di paesaggio, che ha fatto nascere un nuovo ed intenso desiderio per i viaggi e per la sperimentazione creativa.
Quali storie ci racconti con le tue foto?

Non sono interessato a documentare i luoghi "così come sono", come per tradizione giornalistica e documentaristica, e ancor più nel rivelare qualcosa oltre la superficie. Quel ''qualcosa'' cambia da un progetto all'altro, ma l'aspetto affascinante è l'idea di vedere ''qualcosa'' oltre il presente - di vedere il passato e il futuro contemporaneamente. Mi piace descrivere gran parte del mio lavoro come "Desert Futures", nel senso che si ha la sensazione di vedere il passato e il futuro quando si è nel deserto: cose che sono state lì molto prima del tuo arrivo, e molto dopo di te e altri come te passeranno di li. Naturalmente, gran parte del mio lavoro è stato influenzato dalla tradizione sci-fi.
Quali strumentazioni preferisci usare? quali sono i tuoi settings?
Ho girato con polaroid scadute formato medio 35 mm, DSLR e più recentemente una fotocamera mirrorless modificata per infrarossi a spettro completo. È importante per me sperimentare diversi strumenti, in quanto mi incoraggia a impegnarmi di nuovo in un processo altrimenti familiare.
Alcuni dicono che è importante non farsi prendere troppo dagli strumenti - lo credo fino a un certo punto, ma su di me l'attrezzatura stessa può a volte influenzare il mio pensiero creativo.
Chi ti ha influenzato di più nella tua carriera?
A parte la mia famiglia, che mi ha dato un sostegno incondizionato, la community di Flickr è stata una risorsa incredibile agli inizi. Ci sono troppi nomi, ma molti fotografi sono stati gentili e generosi nel condividere il loro processo con quelli che chiedono gentilmente ed anche io faccio del mio meglio per fare lo stesso per coloro che sono curiosi.

Quali sono i tuoi gusti in Musica, film, libri ..?

Mi piace molto la musica ambient e strumentale - Red Sparowes, Sigur Ros / Jonsi, Pelican, ecc. Recentemente mi ha coinvolto anche la Synthwave come Carpenter Brut, Perturbator e Kavinsky ma di solito non ascolto musica quando scatto o modifico.
Mi piacciono davvero tanti film, ma in cima alla lista direi: City of God, Eternal Sunshine della Spotless Mind, Bladerunner (sia il vecchio che il nuovo), tutti i film Won Kar Wai, Badlands e Mishima ''Una vita in quattro capitoli''.
Mi piace molto la storia, ho letto un bel po' ma in modo creativo; due libri che mi hanno lasciato una profonda impressione sono stati: Zen e l'arte della manutenzione della moto di Robert Pirsig e, più recentemente, l'arte dell'apprendimento di Josh Waitzkin.
E riguardo i tuoi progetti futuri / viaggi / avventure in questo 2018?

Ho lavorato con una casa editrice di San Francisco (Strange Cessations) su un numero limitato di 15 stampe di sette delle mie foto ad infrarossi che ho scattato durante il mio soggiorno in Nuova Zelanda. Sto lavorando per rinnovare il mio sito Web e per aggiungere un e-commerce per queste stampe.
Il mese prossimo, ho intenzione di andare ad una conferenza e ad un seminario ad Amsterdam per ampliare la mia comprensione del design e della grafica 3D, il mio interesse è in crescita in entrambi i campi. Ho intenzione di andare in Giordania, Tibet o Mongolia alla fine di quest'anno e se c'è ancora tempo (o denaro!) rimasto mi piacerebbe anche lavorare sul fotolibro di tutti i miei lavori degli ultimi anni.

︎ENGLISH VERSION︎
Tell me a little about yourself, Where did you grow up? What's your background?
Hello there. My name is Paul Hoi, and I'm an experimental landscape photographer based out of Oakland, California. I grew up in Hong Kong, immigrated to the North Bay (the region roughly north of San Francisco) with my family when I was around nine, and I've mostly been around this region ever since.
My original interest was in drawing, which evolved into experimentations with photography about a decade ago. For work, I currently work on the photo team for an agency at Apple.
How did you develop an interest in photography?
I really enjoyed drawing growing up. I became more conscious of composition, depth and color as my skills developed, and photography was initially a fun exercise in compositional design. It felt like instant drawing. After college, I completed a series on American suburbia, and thought I was done with photography from then on. It wasn't until several years later that I became interested in photography again, specifically landscape photography, which accompanied a new and intense desire for travel and creative experimentation.
After college, I completed a series on American suburbia, and thought I was done with photography from then on. It wasn't until several years later that I became interested in photography again, specifically landscape photography, which accompanied a new and intense desire for travel and creative experimentation.

Which stories do you tell with your pictures?

I'm less interested in documenting places 'as they are,' per journalistic and documentarian tradition, and more so in revealing something beyond the surface. That 'something' ranges from project to project, but an overarching fascination I have is the idea of seeing something beyond the present - of seeing the past and the future simultaneously.
I like to describe a big part of my work as 'Desert Futures,' in that there's a feeling as though you're seeing the past and the future when you're in the desert; things that have been there long before you came, and long after you and others like you will pass. Naturally, a lot of my work has been informed by the tradition of sci-fi.
What equipment do you prefere to use? what are your settings?

I've shot with expired polaroids, medium format, 35mm, DSLR's, and most recently, a mirrorless camera modified for full spectrum infrared. It's been important for me to experiment with different tools, as it encourages me to re-engage with an otherwise familiar process.
Some people say that it's important not to get too caught up in the tools - I believe that to a degree, but for me, the equipment itself can sometimes inform my creative thinking.

Who influenced you the most in your career?
Aside from my family, who have been unconditionally supportive, the Flickr community was an incredible resource when I was first teaching myself photography. There are too many names, but many photographers are very kind and generous in sharing their process to those who ask kindly. I try my best to do the same for those who are curious.

What's your taste in Music, movies, books..?

I really enjoy ambient and instrumental music — Red Sparowes, Sigur Ros/Jonsi, Pelican, etc. I've also been pretty into Synthwave recently, like Carpenter Brut, Perturbator and Kavinsky. But I don't typically listen to music when I shoot or edit.
I enjoy so many films, but on top of my head, I really like City of God, Eternal Sunshine of the Spotless Mind, Bladerunner (both the old and the new one), all of the Won Kar Wai films, Badlands, and Mishima: A Life in Four Chapters.
I really enjoy history, so I read quite a bit of that, but creatively, two books that left a deep impression on me were Zen and the Art of Motorcycle Maintenance by Robert Pirsig, and more recently, The Art of Learning by Josh Waitzkin.

What about your future projects/travels/adventures in this 2018?
I've been working with a printer from San Francisco (Strange Cessations) on a limited run of 15 prints of seven of my favorite infrared photos I took during my time in New Zealand. I'm working to revamp my website to add a web store for these prints.
Next month, I have plans to go to a conference and workshop in Amsterdam to expand my understanding of design and 3D graphics, both of which are growing interests of mine. I have plans to go to either Jordan, Tibet or Mongolia later this year. If there's any time (or money!) left over, I'd like to work on photo book of all my works from the last several years.